About ManeTame Pet Styling Salon

We are truly passionate about animals and love what we do. We strive to make every animal feel calm and comfortable while they are in our care. You can be sure your pet will receive the best care possible from ManeTame.


Meet the pet stylists of Mane Tame: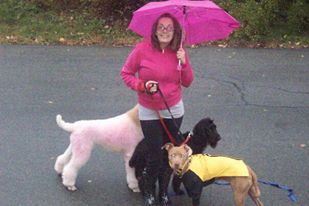 Jill Pipino
Jill has been a pet stylist for 23 years. She has worked in small private salons, corporations and was an instructor at a pet styling academy. Jill regularly competes in dog grooming competitions throughout the east coast and mid-west. Since the start of her career has attended at least three conventions a year, taken private lessons with industry leaders and breeders.She meets several times a year with groomers to form their own mini-workshops to practice specialty grooming and share information. Jill enjoys showing her Field Spaniel, Bruce and her American Cocker Spaniel, Bucket. Jill is available Mondays, Tuesdays, Thursdays, Fridays and limited Saturdays.

Cassie Flynn
Cassie has been a pet stylist for 14 years. She regularly attends seminars and trade shows continuing her education, staying up to date on the latest trends and techniques in pet grooming. She began her grooming career working in private salons apprenticing until she worked her way up to the head stylist at a private salon for two years before opening at ManeTame. Cassie is available Tuesday through Saturday.